I know, not the most glamorous  of subjects but it's started off a whole train of thought so bear with me …
Over this last week I've been doing some work on my Etsy shop. To be honest, I've realised that I haven't actually taken it very seriously in the past. I started listing items at the end of March this year and really, everything was quite ad hoc. The result is that I have very little consistency across my shop. From how I take my product photos to my listing descriptions and even my pricing I have no clear theme. So this is what I'm working on.
Now, one of the areas that I've been looking at is packaging. Until now, my items have all been shipped in an organza gift bag. This is mostly because I had bought some to put Christmas gifts in and had left overs. While doing inventory I discovered that I'm almost out of bags so I went online to order more. While browsing, I remembered an Etsy tip – whenever you do anything involving your Etsy shop think about what it says about your business. You want to be able to present a consistent shop identity through everything that you do. So I asked myself – what do organza gift bags say about my shop? I was pretty much unable to answer that question but I realised that I was missing the more important question – what do I want my packaging to say about my shop? Which led to – what kind of business do I want to run? (See what I mean about the whole train of thought?)
Mind Map
In order to try and answer that question, I started a mind map of words that describe what I want my business to be. The first word that came to me was Ethical. Now, I already try to be ethical in how I source my materials. I try to buy from small, local businesses. I use glass beads rather than plastic because they are more sustainable. Where possible I recycle (or upcycle) materials to reduce waste. So how do organza gift bags fit in with that? Well, they don't really.
I started browsing different types of packaging. It's a minefield! There are so many options and it's not always clear what the best ones are. I considered making my own packaging out of things like cereal boxes that I would normally put in the recycling. But given my attempts to embrace more whole foods and follow a more primal style diet, we don't actually have that much card to recycle. What if I don't have enough to package all of my orders? Of course, at the moment this isn't actually a concern as I'm not getting that many orders but I'm being optimistic. So what about buying ethical packaging? At the moment I'm considering recycled card pillow boxes like these: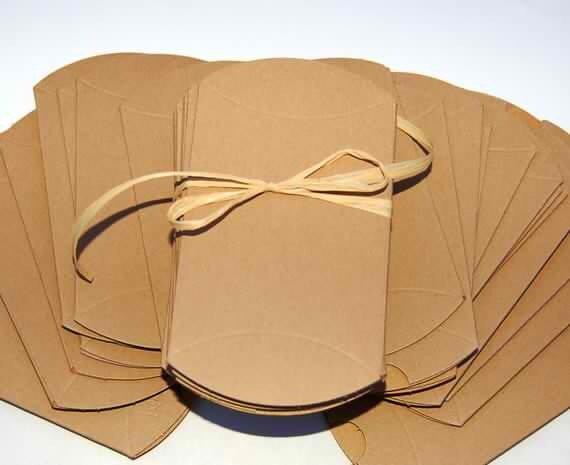 But are they too plain? Will my customers appreciate these? Will they understand what I'm trying to do? Should I start of with these and then embellish them? Does that defeat the point in choosing these in the first place? Like I said – a minefield!
Beginnings
I basically started this shop because I had been making jewellery and similar items as gifts for people and lots of family and friends encouraged me to sell it. I figured that maybe my hobby could pay for itself. Now, in amongst all of the change and thoughts that I mentioned in my introduction, I'm looking for a different way of life. I want to give up my soulless day job in an office in the city and work from home where I can enjoy my children. I want to create something that will help to support my family but also tie in with my beliefs / principles. I want to honour my religious beliefs in how I conduct my work. Which means a new beginning. A lot of work on figuring out how to get from where I am to where I want to be. A lot of prayer that it will work and be financially viable. And packaging, though not glamorous, is a part of that.